Compendia's Cryptocurrency ß(BIND) Wallet can be integrated with MetaMask for a full mobile experience. The wallet is compatible with IOS and Android.
Here's a quick tutorial on how to use it:
1. Download MetaMask for IOS or Android.
2. We will assume that you are already using the wallet on your computer and that you therefore already have a wallet. Otherwise, you just need to create a new wallet by following the steps displayed on your screen.
3. Import your wallet by clicking on "Sync with Metamask extension", then "Scan".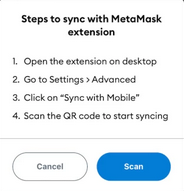 4. You must then connect to your computer (MetaMask extension for Chrome/Firefox) and go to "Settings" > "Advanced" settings and click on "Sync with mobile". Then just scan the QR code that will appear on your mobile.
5. To show wBIND tokens in MetaMask, click "Add Token" > "Custom Token". In the "Token Contract Address" filed input wBIND contract address: 0x15334dcb171e8b65d6650321581dca83be870115 and click "Next" > "Add Tokens"
6. Open "Menu" in MetaMask Mobile, click on "Browser" and input Compendia's Web Wallet address (htts://wallet.compendia.org). Here you can import into MetaMask your Compendia Account using one of the listed options. After you log in click "DeFI" tab and "Connect Ethereum Wallet".
At this point your Compendia Wallet Account is integrated with MetaMask and you can swap BIND with wBIND and vice versa.
If Uniswap applet is not loading in Compendia Wallet you can open a new browser window and input https://bind.exchange. The DEX will connect with MetaMask and allow for wBIND to ETH swaps and Liquidity Pool statistics.